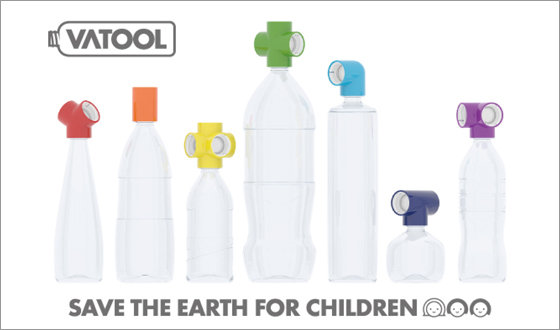 [Tool for a better world]
If you have a small part of VATOOL and 2 plastic bottles, you can make a variety of playthings such as baseball bats, hourglasses, loudspeakers, and dumbbells. People have paid a lot of money to buy those things, but we think VATOOL will solve education inequality which has been caused by such costs. The purpose of BPABLE Corporation is to create a variety of tools with VATOOL, which will benefit the world.
[Save the earth for children]
BPABLE is a startup company which has developed VATOOL, environment-friendly toys, for the children of the low-income bracket with the use of up-cycling and optimum technologies. The company was established in 2014 and developed VATOOL early this year on the basis of optimum technologies and up-cycling. By having developed V.EDU (VATOOL EDUCATION), a creative complex education, utilizing the educational process of STEAM (Science, Technology, Engineering, Arts, Mathematics) which is a convergence talented-person education, we are maximizing education effects all the more which can be achieved through VATOOL. Besides, we will put even small things into practice not only for environments and children but also for the world.
What is STEAM education? - It is a global education method for the education on scientific technologies and mathematics on the basis of creativity.